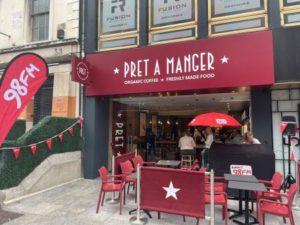 When a retailer considers expansion within or entry to a new territory, they must assess a wide range of factors to make a financially viable decision. Rather than Why Ireland, the Bannon Retail Team are using economic data to demonstrate to retailers – Why Not Ireland.
To start, there are several key statistics to Why Not Ireland:
Ireland is 1st in Europe for Economic Growth.
The country is 1st in the World for Business Productivity and Efficiency.
Census 2022 reported Ireland's highest ever population of 5.12 million.
Ireland's population has grown 21% in 15 years and is set to reach 6.334 million by 2050. This is the second biggest population growth projection in Europe. In comparison more than half of Europe is projecting a population decline.
Ireland now has more than 2.63 million people in employment the highest level ever recorded. This growth has led to higher wages and higher disposable income levels.
Irish households are now 40% wealthier than in 2007.
Irish household savings hit an all-time high in June 2022 of €145 billion euro while household debt continued to decline.
Retail sales are 29% above 2005 levels.
Ireland welcomed 7.2 million visitors during the first half of 2022, in comparison 2019 saw 11.3 million tourists for the full year.
The statistics don't lie. These hard facts are aiding the post Covid retail recovery, providing confidence to expand to retailers and investors. This is evident in the number of new entrant brands who have recently signed expansion deals in Ireland including Lego, Russell & Bromley, Flannels, Carhartt & Pret A Manager to name a few.
The Bannon Retail Team is in active discussions with a range of additional new entrants. Some are considering Ireland ahead of the UK for store expansion. This is a significant shift away from the traditional route of opening in the major urban UK markets first.
Increased spend and the resulting increase in turnover is aiding retailers to make decisions to expand outside of the prime focus of city centres in Dublin, Cork, Limerick, and Galway. For example, Bannon recently welcomed Rituals to Marshes Shopping Centre in Dundalk. This demonstrates how a brand's confidence in Ireland has seen retailer expansion strategy grow from Grafton Street to regional towns.
Whilst it might be viewed as a small country for expansion, the data provides a strong business case for retailers to decide Why Ireland should be a primary focus in their ongoing expansion plans.
Author:                  Jennifer Mulholland, Divisional Director, Bannon
Date:                     12th October 2022
https://bannon.ie/wp-content/uploads/pret-3-1-1-450x338-1.jpeg
338
450
Bannon Webpage Admin
https://bannon.ie/wp-content/uploads/bannon-logo-trans.png
Bannon Webpage Admin
2022-10-12 11:31:53
2022-11-01 14:23:58
Why Ireland for retailers? Why Not Ireland.